W153 Chalkboard with Round Top: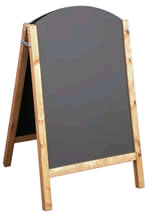 W153 Chalkboard A Board Sandwich Board
Simply slide the boards in and out, turn them around with a different message on either side, no more scrubbing every time you want to change the display. You get 4 sides instead of 2! For Example, Breakfast menu in morning and main menu in the afternoon!!
- Suitable for Chalk or liquid Chalk pens

Chalkboard Sizes:
Weight: 10kg
Display Area: A1, 2 x 841 x 594mm
Stock Colour: Wood frame


Chalkboard Cleaning:
The chalkboards we manufacture are designed not to smudge, or to be easily wiped off, but most marks made by chalkboard pens or chalks can be removed by wiping the chalkboard with a wet cloth. For more stubborn marks or shadows left by chalkboard pens, we recommend that you use Mr Muscle general cleaner. Do not use abrasive cloths or cleaners as they will damage the surface of your chalkboard. If the problem persists a small tin of blackboard paint can be purchased to cover up any stains left. A clean and well-maintained chalkboard suggests clean and well-maintained premises, in the mind of any potential customers.

back to PAVEMENT SIGN